Utah's climate provides four distinct seasons: spring, summer, fall, and winter. While the summer months are typically hot and dry, spring fall, and winter fluctuate drastically from freezing temperatures and heavy snowfall to high winds and light rain. All of these weather changes keep life interesting, but if you aren't careful, the elements can take a significant toll on your commercial landscaping.
Your business is open year-round, which means your landscape maintenance plan should follow suit. Once grass, trees, shrubs, and flowers are planted, it's your responsibility to keep them alive, which brings us to seasonal landscape modification.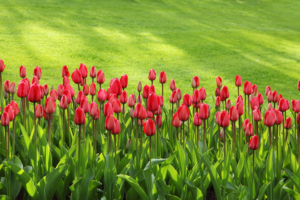 Why seasonal landscape modification matters
The secret to having beautiful, vibrant color to your landscaping all year long is seasonal landscape modification. Different flowers and plants thrive in different climates and temperatures. This means that some flowers bloom during the hot summer months, while others are more equipped for the cloudy, damp spring season. If your landscaping team isn't aware of how the climate affects your property, they won't be able to keep it looking as good as it should.
How seasonal landscape modification works
Every landscaper will have different methods for planning landscaping modification, so we will talk about our method. At Lawn Butler, we're proud to offer our clients a Seasonal Flowers and Color Service. First, we go out to the property and perform a thorough evaluation of your flower beds, lawns, and hardscaping. Next, we sit down and listen to the client's goals for landscaping maintenance. After this discussion, we'll develop a seasonal maintenance plan.
What you can expect from seasonal landscape modification
After we develop a maintenance plan for a property, we'll go over it with the client to ensure it helps them meet their goals. Once we receive approval, we get started on making the modifications. The process works like this:
In the fall, our landscaping team plants flowers that can tolerate the cold Utah winter.
These flowers sprout a few weeks later and are capable of withstanding ice, snow, and biting winds.
At the end of winter, when the weather warms up, we replace your fall and winter flowers with plants that are equipped for hot weather.
These flowers sprout a few weeks later, and the process continues.
The process is designed to keep landscapes looking lively and robust throughout the year, and can be adjusted to meet unique needs of each client.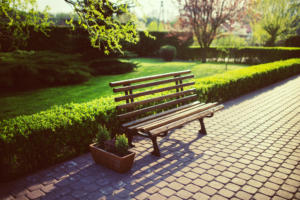 Partner with your local Utah landscaping team at Lawn Butler
This simple, four-step process is guaranteed to keep any commercial landscaping beautiful and inviting all year long. In addition, we make an effort to incorporate plants and flowers that are drought-tolerant and environmentally friendly. We know water costs spike during the warm months, so it's important to us that our efforts are both economical and environmentally friendly
Contact us to learn more about our landscaping modification services so your commercial property can look stunning year-round!