OUR ROOTS RUN DEEP
IN TREE CARE
Trees are one of the most highly sought-after yard features among Utah home seekers, and it's not hard to understand why. Red maples, firs, spruces, junipers, oaks, aspens, and other Utah tree species create a natural, leafy aesthetic for residential and commercial properties while simultaneously providing shade and privacy. At Lawn Butler, it's our mission to execute your tree landscaping design project goals with knowledge and precision, and with 50 years' experience, we're confident we can impress you as we go the extra mile to meet your needs.
WHY CHOOSE LAWN BUTLER FOR YOUR UTAH TREE LANDSCAPING?
Your outdoor property is an expression of who you are as a family or a business, so you probably don't trust just anyone to work on it. Lawn Butler is your best option for a tree landscape design company in Utah — even for the most selective of property owners. We've been earning awards for our best-in-class service since 2011, and we offer custom strategies to suit your requirements and preferences. Our talented arborists have handled a variety of high-profile projects, and we're confident in our ability to make your yard healthy and beautiful.
SUPERIOR TREE SERVICES FOR RESIDENTIAL & COMMERCIAL CUSTOMERS
Once you've decided to work with us, our expert tree team will consult with you to understand your property goals, and from there, we conduct an in-depth evaluation of your landscape and soil condition to determine which tree types will thrive on your property. Then, your landscape is prepared for new vegetation. We work with you to decide where each tree should be placed for optimal health and appearance. Finally, our arborists carry out the plant installation with great care — and it doesn't end there. We're with you throughout the life of your trees to facilitate post-planning tasks and to maximize their lifespan, attractiveness, and health.
As experienced landscapers, we know that the work doesn't end with the tree planting. Take a look at the other services we offer to keep your favorite saplings going strong.
Just as humans need an occasional trip to the doctor and the salon to stay healthy and well-groomed, trees need regular maintenance to reach their full growth and beauty potential. For example, it's important to prune and mulch trees before the harsh winter months set in to insulate the soil and ensure that branches can grow when spring arrives. Overgrown branches can also be a hazard; when the branches grow too long, they can get tangled up in electrical wires and even cause property damage when they come in direct contact with your home. 
Tree needs vary by season, so speak with one of our tree professionals to learn what your vegetation needs this month.
TREE PEST CONTROL AND PREVENTION
Every day, your trees are exposed to hundreds of different kinds of plant-damaging insects. Bark beetles, weevils, spider mites, borers, and leaf beetles are only a few of the bugs that feed on trees and leaves. These destructive critters tunnel their way into tree trunks and roots and prevent them from absorbing water. Lawn Butler is trained and experienced in pest identification, prevention, and control — so don't wait until it's too late. Prevention is always easier than remediation!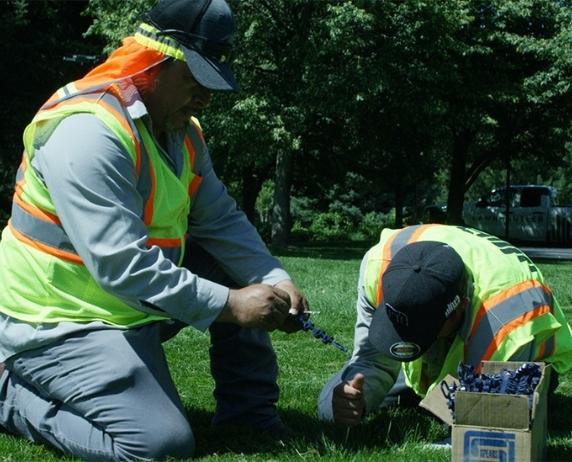 STORM PREPARATION AND CLEANUP
Utah is notorious for heavy snowstorms, which can be particularly damaging to the root systems, leaves, and branches of your trees. Be ready this winter by preparing ahead of time. While the weather is nice, take the time to have our tree maintenance experts carry out preventive pruning, lightning protection, and mulching. We'll identify and reinforce any weak spots that would be the downfall of your tree during a storm. If the storm has already done its damage, you can count on our team to clean up the mess of leaves and broken branches.
Trees are a great way to draw in new business. As passers-by find relief from the sun under the comfort of the shady tree on your premises, they're much more likely to stop in and give you their business. Allow our tree professionals to deliver high-quality commercial tree solutions in a timely manner. We can offer low-maintenance trees that effortlessly blend in with your company's aesthetic, and we'll plant them to last. Get in touch with us to hear about our options.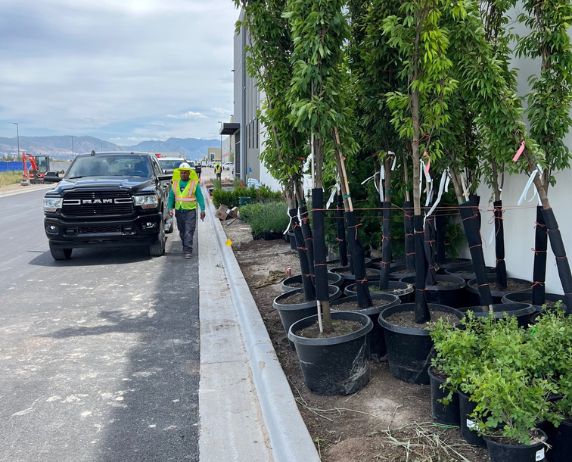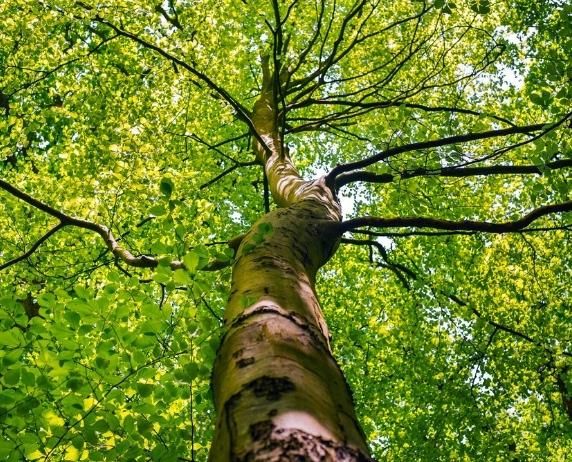 Although our team will do everything possible to care for and save your trees, we understand that tree removal is sometimes necessary. When root systems become invasive and begin to damage underground pipes, overrun a neighbor's backyard, or the tree becomes infested and dies, tree removal might be the only option. We have the experience and tools to remove the tree safely, taking as much of the stump with it as possible so that you're left with usable space in the tree's place.
WORK WITH US TODAY IN SALT LAKE CITY, DAVIS COUNTY,
OR UTAH COUNTY
Utah tree and landscaping services are local and affordable when you work with Lawn Butler. We're proud to serve Salt Lake, Utah, and Davis counties, and we can't wait to work with our fellow Utahans to keep our gorgeous state growing and green. Give us a call today at (801) 336-4931 to learn more about how we can help you with your specific tree project.

"We can't say enough wonderful things about Lawn Butler. Six amazing workers from Lawn Butler came out to Ching Farm Rescue Sanctuary as part of a service project to plant five donated trees for the animals, to provide them with shade. These guys were friendly, professional, and did such a class A job… Thank you, Lawn Butler!"

– Shirley G (Ching Farm Rescue Sanctuary)