COMMERCIAL SNOW & ICE REMOVAL
THROUGHOUT UTAH
KEEP YOUR PROPERTY SAFE FOR YOU & YOUR GUESTS
At Lawn Butler, we not only pride ourselves on taking care of your lawn, but we also provide extensive plowing and snow maintenance services in Utah that take the stress out of every snowfall. Winter can be a difficult season for most, but with our plows, blowers, and manpower, we can clear snow problems right out of your way. Our Winter team is on-call 24/7 so that we can be available after the heaviest snowfalls and storms. We have the plows, equipment, and skills to clear snow and melt ice off anything—from sidewalks to large commercial complexes. No matter what mother nature throws at you, our snow and ice removal team will keep your property safe.
Lawn Butler is a full-service ice and snow management provider. Whether you need sidewalk clearing, parking-lot plowing, or ice management, we have the resources and personnel to get the job done. With more than 100 mechanical assets and 200 team members, Lawn Butler stands as the largest single, privately owned snow management company along the Wasatch Front.
When it comes to the winter, a slip and fall is every property manager and real estate owner's nightmare. Not only do you want to keep your site safe for tenants, customers, and the general public, but you also want to avoid the liability of an injury occurring on your property. Lawn Butler offers comprehensive snow removal and management services. Snow removal is a single service provided one time in response to the snow that has fallen. Snow management begins with a proactive approach to our customer's needs. We begin months in advance, preparing your property and our teams for the coming weather. Lawn Butler takes snow and ice management seriously to ensure that your property is safe for both your staff and your clients.
Regardless of the size of your property, our highly skilled plow team is available 24/7 to clear your property after heavy snowfalls. We offer full-scale shoveling and plowing services; these can be executed one time or can be included in a season-long management plan. Lawn Butler strives to ensure safety for you and your customers during and after winter storms. Our equipment and talented snow removal team can reduce your concerns during the winter season by clearing snow from your property.
SIDEWALK CLEARING & REMOVAL
Sidewalks are highly trafficked hardscapes that need to be attended to after winter storms. Reduce your workload by allowing Lawn Butler to shovel and salt your sidewalks and therefore, create a safe walkway for you and your visitors. Our equipment and manpower allow for quick sidewalk clearing and removal. With our plows, blowers, and salt we will clear snow and melt ice from sidewalks effectively so your liabilities are minimized and your property remain safe.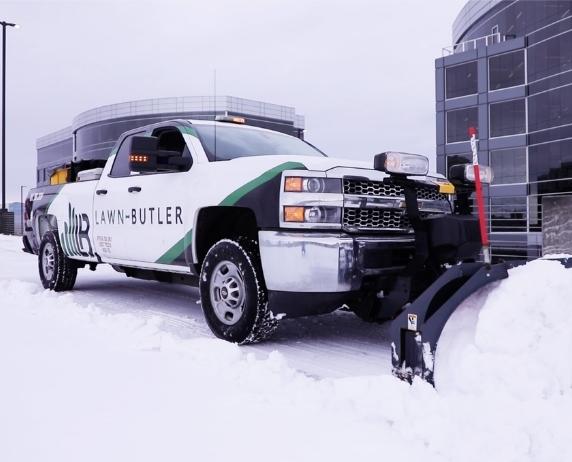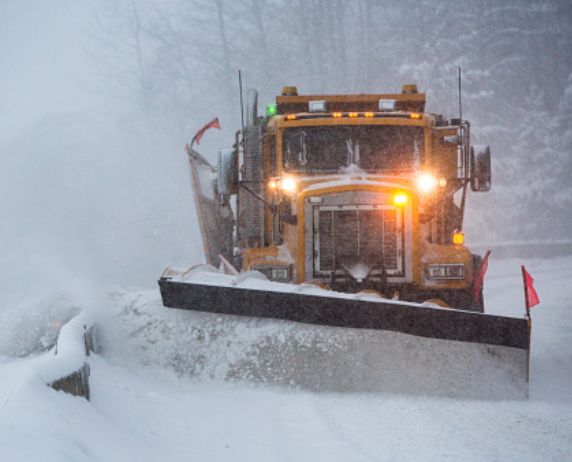 Ice is often the most dangerous result of the winter season. One slip or fall can result in serious consequences for your business. Salting driveways, parking lots, sidewalks, and hardscapes allows the freezing point of water to decrease so that existing ice melts and it is more difficult for water to freeze. Our ice control team will respond promptly to your needs; we will melt ice, prevent ice formation, and ensure that your landscape and property stay safe all winter long.
After a big winter storm, snow plowing often results in stacks of snow that compromise the usability of parking lots, sidewalks and other hardscapes. With Lawn Butler's snow stacking and snow removal services, we can stack snow so it does not interfere with trafficked areas. We also specialize in the removal of snow stacks so that your property remains clean and clear after heavy winter storms.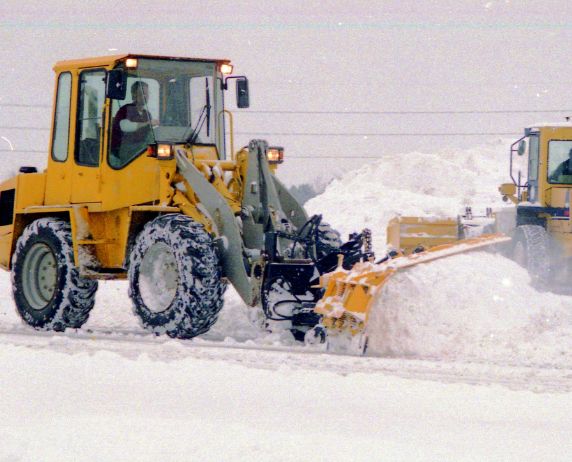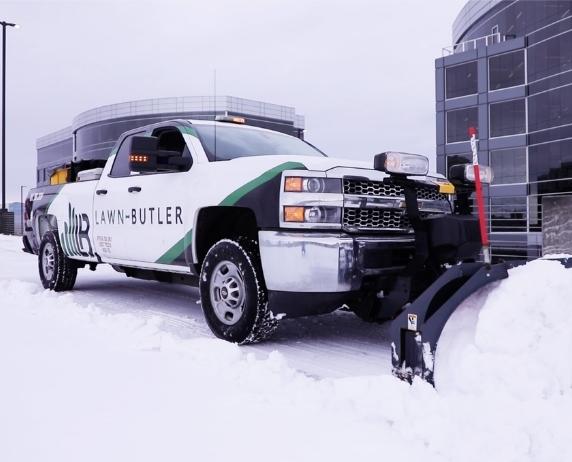 CHRISTMAS LIGHTING, DÉCOR & DECORATING
Make a festive entrance into the holiday season with our lighting and decorating services. Lawn Butler's Christmas decorating services take the hard work out of the holiday seasons. We install Christmas lights and decorations to trees, roofs, shrubbery, and other landscape elements. We also provide prompt takedown services as soon as the holidays are over.

"Awesome snow removal company. They really care about their customers as well as their staff."