When it comes to snow removal services there are many unknowns.  Below are five of the biggest issues faced by property managers when working with snow removal providers.  Careful planning and consideration towards these items when determining a snow service provider can reduce headaches during the snow season.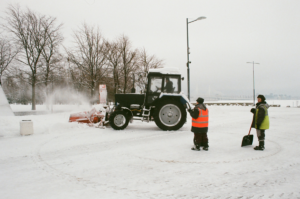 Communication
Clear and consistent communication between a snow and ice management provider and the property manager can help reduce complaints.  Current communication can assist the property manager in answering building owner and tenants' questions with real time solutions.  Pre-Storm notifications can be a beneficial asset and reduce your need to keep up to date with the always changing weather predictions.  It is important that your snow provider is quick to answer calls and emails in the event of an emergency such as a slip and fall.  Additionally, when your contractor notifies you of issues and damages before they arise it is helpful in keeping
Logistics
Strategic planning and mapping can reduce issues on site.  Snow piles located in key locations can minimize runoff and refreezing.  Incorrectly located snow piles can take up valuable parking spaces as well as make navigation on site visually difficult.  Correct planning can assist in overall traffic flow and site functionality.
Liability
One of the main reasons to contract snow services is to reduce liability from slip and falls.  Lawsuits and insurance claims can unexpectedly become very expensive.  Correct salt and ice melt applications can reduce icy conditions.  Additionally, correct logs of when services are provided are crucial to reducing liability.  By taking these precautions, you can not only save money but also time.
Timing
Weather is unpredictable.  At Lawn Butler we do our best to watch the weather and predict the storm.  We go out before other cars are on the road to prevent getting stuck in traffic.  Having a close eye on the storm helps us to be on site when we are needed most and able to provide the best service possible.

Game Plan
Although every storm is different, consistent planning and operating procedures can help set your mind at ease that your contractor will be on site and ready to provide services.  Knowing when your snow provider plans to arrive on site can assist you in knowing.  Additionally, knowing how full your providers schedule is can assist you in knowing that they are not over booking their trucks.
Don't Do It Alone!
Snow removal can be a huge pain each winter, but you don't have to do it by yourself! Lawn Butler can help you with snow and ice removal throughout most of the state of Utah. For businesses large and small, contact us to turn your winter nightmare into a winter wonderland!