The recession we've all anxiously anticipated is now upon us for the first time in 12 years, and
businesses are suffering across the board. At Lawn Butler, we sympathize with you — we've felt the impacts of the COVID-19 recession, too, and we understand why businesses have cut costs wherever possible to save on nonessentials. Lawn care in Utah, however, remains just as important today as it was before this crisis.
Utah landscaping services have been deemed "nonessential" by many, but cutting back on your company's landscaping budget can have numerous unfavorable effects. Such a cost-cutting move has the potential to negatively impact your business and negate the many benefits you'd enjoy with continued regular lawn care. Let us take lawn maintenance off your to-do list and free up your time to deal with coronavirus-related business ordeals. We'll help you breathe easier and enjoy lush green grass during quarantine and beyond.
Your Lawn Is a Reflection of Your Company
Did you know that customers judge a company before they even enter a premises? Based on a consumer poll by M/A/R/C Research, 14% of consumers surveyed said they would pass by a business if it looked neglected. In difficult economic circumstances, customers who go out are looking for a positive all-around experience, and a dead or disorderly lawn does not provide the desired vibe.
The message of apathy and ineptitude an unsightly lawn conveys to customers, also leads folks to wonder what else you've been neglecting. Bad curb appeal damages your reputation. If you're like us, you can't afford to lose business right now, so it is true that local lawn care services are in your best business interests — and ours.
In a worst-case scenario, what if you ended up having to sell your office or storefront? How will a dead, brown landscaping lure buyers? Disorderly landscaping not only decreases curb appeal — it also lowers property value.
A Neglected Lawn Brings Undesirable Side-Effects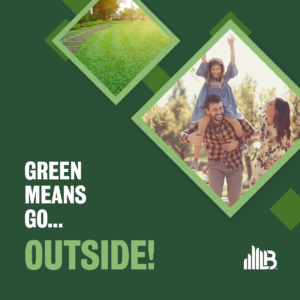 Curb appeal is not the only problem with an unattended lawn. Without proper care, your grass becomes susceptible to rodents, weeds, insects, blight, and other diseases after just a matter of weeks. This can be especially problematic if your business is subject to penalties from the landlord or the local community for failing to perform necessary upkeep.
Your lawn also has a direct impact on the environment, and keeping it in good condition is good for the planet. Lawns filter pollution from the air, which in turn reduces greenhouse gases.
Our Crew Has Minimal Physical Contact With Customers
Many business owners are forced to limit their contact with the outside world during the coronavirus pandemic. Fortunately, lawn services will not interfere with your social distancing efforts. Administrative items are typically taken care of virtually or by phone beforehand so that when the lawn specialist arrives at the job site, the only contact he or she will have with you is a wave through the window. The entire Utah Lawn Butler staff is taking extra special care to follow all protocols from the CDC — we even sanitize our equipment between uses.
One Less Thing for You to Handle
After the harsh effects of the winter snow and freezing temperatures, now is the time to give your lawn its annual springtime TLC, including re-seeding, mulching, fertilizing, and aerating. Surely no property manager has this much time to devote to lawn care alone? We understand that managers are swamped with other challenging issues at this time, and even though you know landscape management is important, your lawn probably isn't at the forefront of your mind.
Allow us to take this burdensome task off of your to-do list so you can devote your full attention to the running of your business. And you'll be supporting a local business! Breathe easy — your friends and neighbors at Lawn Butler have you covered.
Invest in your lawn's care! Contact Lawn Butler today.