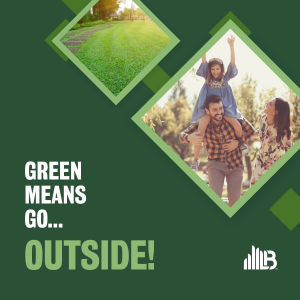 Spring is officially here!
Although the coronavirus pandemic has put a kibosh on traditional seasonal rituals, like the start of baseball season and outdoor music festivals, there's still plenty you can do in your own back yard. We might be biased, but as landscapers, we firmly believe some of the best memories start with freshly mowed grass, blooming flowers and the birds singing in the trees.
If "shelter in place" orders and social distancing measures have you suffering from cabin fever, we have a few ideas designed to get you outside and in the fresh air.
Plant a garden. Now is the perfect time to start a garden. Even if you don't have a green thumb, there are plenty of plants that thrive with very little human interaction. No room to dig up a patch of grass? Try a container garden instead. Start with some herbs or a few tomato plants. And, if you're still not convinced, check out this beginner's guide to gardening from Mother Earth News.
Have a picnic. School isn't in session and many parents are working from home. Can you relate? Get in some family time by having a picnic lunch in the back yard. You can get as creative (or as simple) as you want. Whether you're a tuna salad fan or prefer traditional kid-friendly fare like peanut butter and jelly, there are plenty of options. Plus, if you leave something out of the picnic basket, all you have to do is run inside and open the fridge or cupboards.
Back yard sports. Once you're finished eating, participate in some good old fashioned competition. That could mean a game of whiffle ball, badminton, croquet or throwing around a football or frisbee. Depending on the size of your yard, you might even want to play hide and seek or tag. Once the temperatures get a little warmer, you also have the option of running through the sprinklers or setting up an above ground pool.
Spring means green, and green means you should go outside!
What's your favorite thing to do in your yard? Visit our Facebook page and let us know. And remember, we're here for any of your commercial landscaping maintenance needs.